quote request-FEA Worksheet

If you prefer to download a Quote Request form. Please follow the instructions below.
Upload Data Files using this Direct Data File Upload Link.
To Download a Quote Request Form:
Click on the image below
Save the Form to your computer
Open the file now located on your computer and complete as much as possible
Click 'Save'
Email the Saved Form to Info@BozillaCorp.com
OR Fax to: 910-795-4659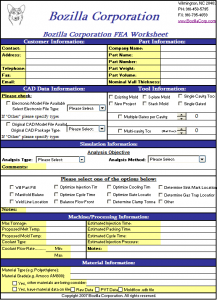 We will contact you to discuss the submitted Quote information. You can also contact us using the information below.
Phone: 910-458-5795